Requirements:
Internet connection to download  Firmware – H5A_222_AS4777.2:2020
Internet connection to download Download DSS – DSS V6.6.4
Delta H5A_222
Windows Laptop (only compatible with Windows laptop)
Process can be done without internet but requirement 1 and 2 must be downloaded before arriving at site. For further details on DSS and how to use it go HERE, for the quick guide see the procedure below.
Procedure:
Step 1. Download Firmware: H5A_222_AS4777.2:2020
Step 2. Extract the Firmware folder downloaded in step 1 on your computer.
Step 3. Download DSS:DSS V6.6.4 and place folder on desktop.
Step 4. Extract DSS V6.6.4 folder that was downloaded in step 3, open folder and launch Delta_Solar_System V6.6.4 (aka DSS),
Step 5. Connect your laptop Wi-Fi to H5A_222 Wi-Fi (H5A_222 Wi-Fi module will turn on if provided DC or AC Voltage), default password to connect to Inverter Wi-Fi is: DELTASOL
If unable to connect, hold the reset button down (Just above the LED's on inverter) for >20s to reset the module and then try again.
Step 5. Select monitor mode on DSS (inverter model top left), Select Wi-Fi radio button and press the play button. After pressing the play button you will note the information will fill with blue numbers.
It will look as below, firmware will be displayed, firmware version will vary between inverters. For AS4777.2:2020 the minimum firmware required is DSP 4.50 and COMM 2.08. The below inverter needs its DSP and COMM firmware to be updated.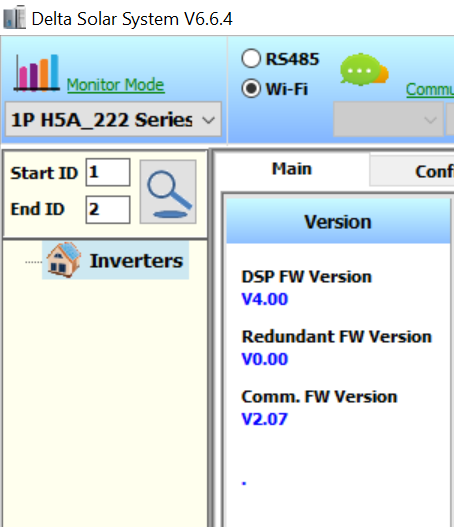 Step 6. Click the Firmware button at the top of the DSS menu. The icon is an image of a computer screen.
Step 7. Select the folder icon which will take you to your file directory. Select the COMM or the DSP firmware file that is required to be updated (extracted file in step 2). In most cases both will need to be updated. When selected click the "Upgrade" button and wait ~5 minutes to complete update. When the first update is completed, your laptop will disconnect from the Wi-Fi of the inverter. To do another update you will have to reconnect your computer to the inverter Wi-fi and repeat step 7.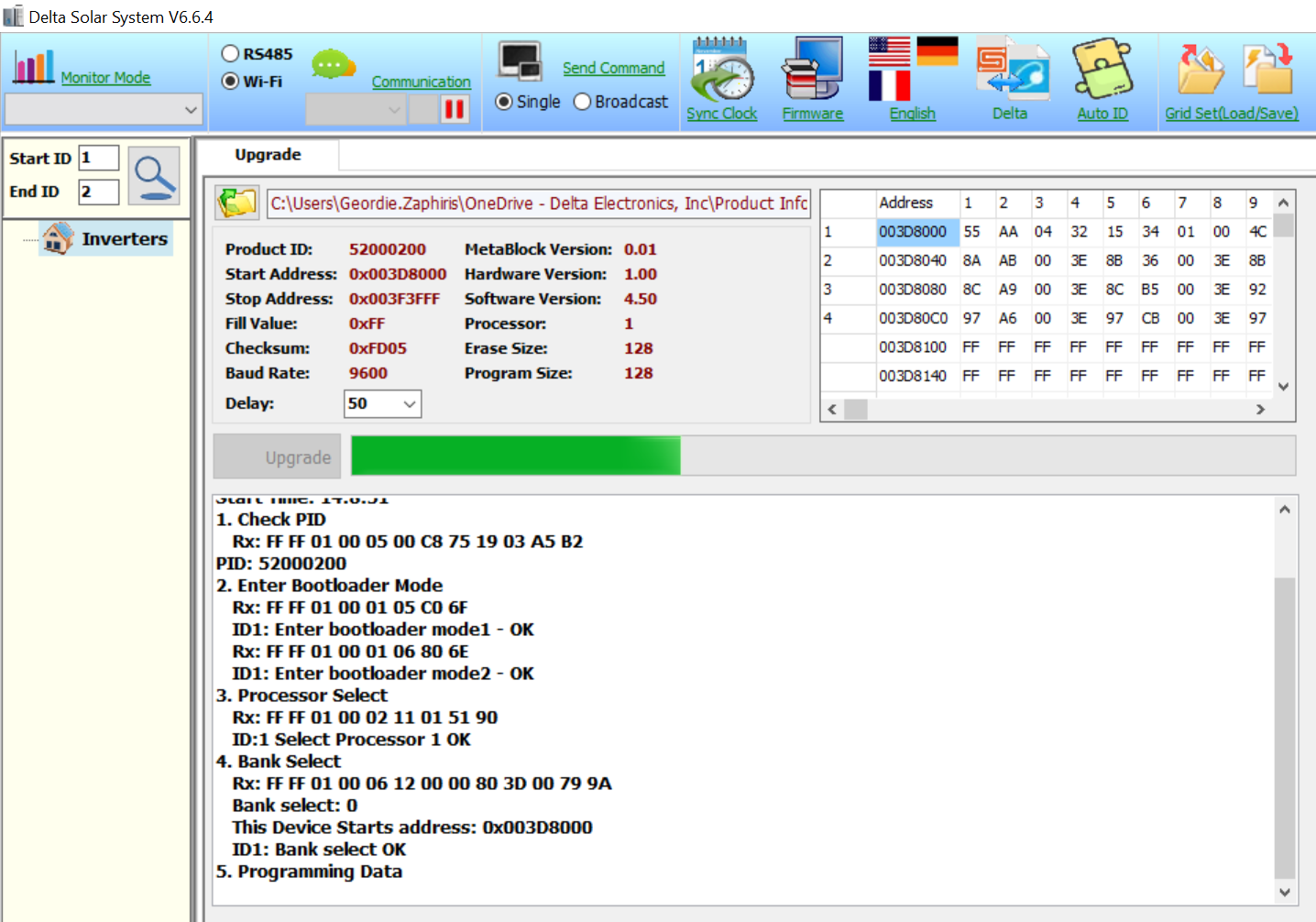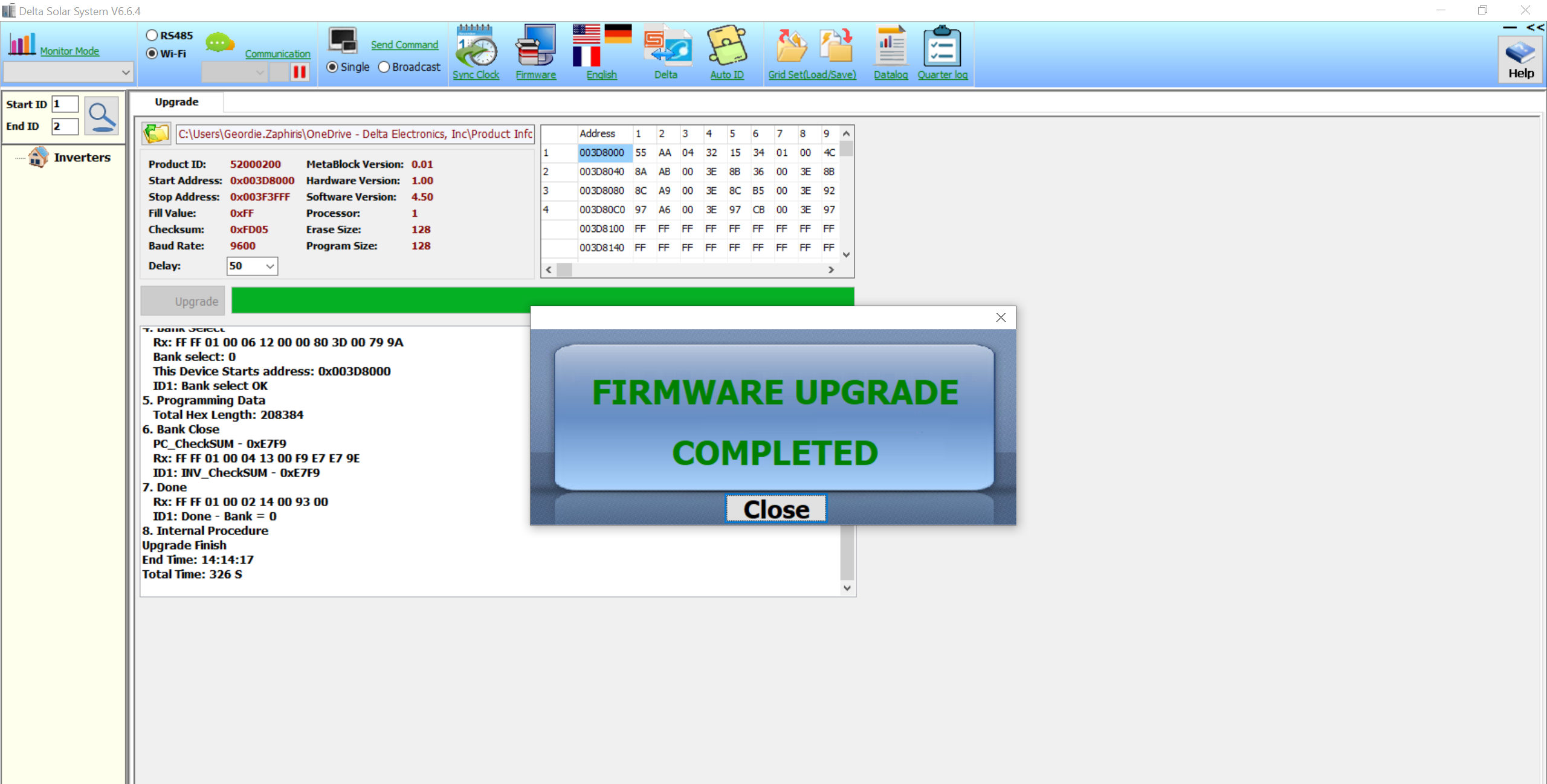 Step 8: Ensure you have reconnected your computer with the Wi-fi of the inverter. Re-select the monitor mode on the top left and view the firmware to ensure it has changed. Take a screenshot as proof of completion. Now you may proceed with the Delta Solar APP to sign in and commission your Delta Inverter!