How to commission and connect a Delta BX6.3 – Installer Pre-checks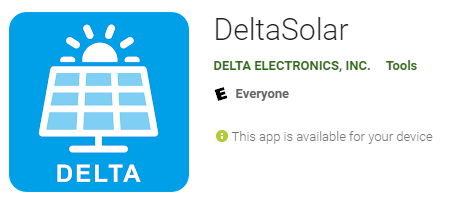 For electrical installation instructions go HERE for the manual.
Check the end customers router is near the inverter. (ensure the signal strength is better than -70dbm)
Check the routers internet connection by connecting your phone to the router. Type in the password, verify that it has internet connection.
Download the DeltaSolar APP from the Google play store or IOS APP store (see image ->)
Ensure you have an account for yourself, this can be created via the sign in page on the app.
It is recommended that the installer have one account to fleet monitor all Delta inverter plants they install.
When commissioning is completed the app will ask if the plant is to be shared to another account, at this point provide the end users email. They will be sent an email prompting them to create an account which when created they can monitor the plant. If they already had an account it will immediately share the plant to there account.
If you have already connected your phone to the current Delta devices onsite or partially commissioned the system and would like to restart. Please reset all devices to ensure smooth operation. Please re-install the DeltaSolar APP, reset the inverter (hold reset button down for >20s), reset the DC1 (hold reset button down for >15s), forget relevant Delta networks from your phones Wi-Fi settings.
If you are using a H5A_222 with a BX6.3 in a microgrid scenario please ensure to update the H5A_222 to the latest FW (at least AS4777.2:2020, DSP 4.50, COMM 2.08).
Commissioning Examples