Solar - INVERTER
MCIS - UPS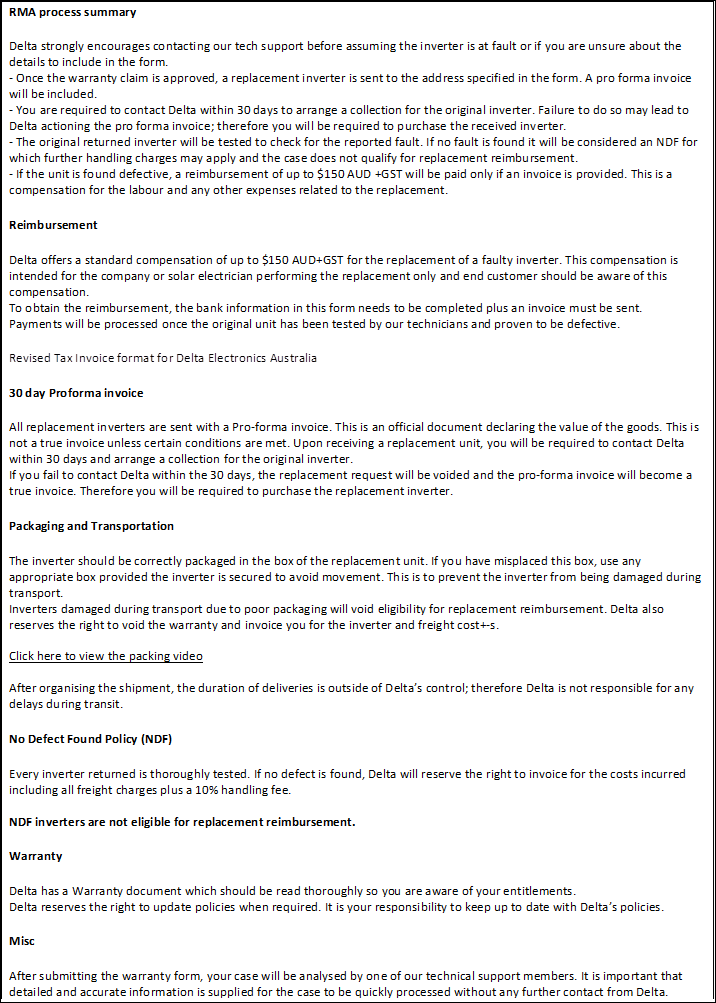 Warranty Replacement Process:
Submit your replacement form. We will process the replacement within 6 working days (one week). If we require further information, the process will be delayed. It is your responsibility to follow up your replacement status. Please note that once the case is approved you cannot change the shipping address, if this is required please contact us to assist.
Once you have received your replacement inverter, contact your local installer to complete the swap over, then pack the faulty inverter back in the box. If you do not have an installer, you can find a nearby accredited solar professional by clicking here.

You MUST return the faulty inverter to us after it has been changed over:

 Request collection here. Or via your ticket.
Once the defective unit arrives in our Service Center, it will go in the queue to be tested and once proven faulty, we will reimburse the company who replaced the inverter or the end customer up to $150 AUD + GST. A tax invoice must be sent to solarsupport@deltaww.com that follows the correct format.
The reimbursement process may take 3~6 weeks from the collection date.
To continue, CLICK BELOW.
By clicking below, you confirm that you have read, understood and agree to the Solar RMA process
1. Create a new account
If you already have an existing account, please skip to the next step. If you have not registered an account with us before, please one of the buttons below, depending on whether you are an End User or Installer, and complete the form to create your new account.
Create End User Account
OR 
Create Installer Account
2. Submit a Replacement Form
Click below, depending on whether you are an installer or end user then select your product.
When filling out the form, please include all useful information (such as measurements or tests performed) so we can process it as quickly as possible.